Disodium succinate CAS150-90-3 CAS NO.150-90-3 Purity 98%
Disodium succinate(Description)
It is nowadays a fact and common sense that glutamic acid, inosinic acid, succinic acid and salts contribute to giving relish and deliciousness to foods. Above all, disodium succinate as food grade, has been spotlighted as an important ingredient of complex seasoning agents and particularly, it's characteristic shellfish (clams)- like taste has been appreciated for applications to different types of processed foods.
Name: Butanedioic acid,sodium salt (1:2)
CAS No.:150-90-3
Molecular Structure: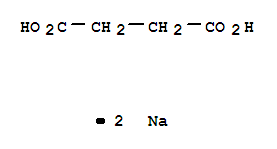 Formula: C4H4Na2O4Molecular Weight : 162.05
Synonyms:
Butanedioicacid, disodium salt (9CI);Succinic acid, disodium salt (8CI);Disodiumsuccinate;SS 50;Sodium succinate;Soduxin;
EINECS: 205-778-7
Density: 1.46 g/cm3
Boiling Point: 236.1 °C at 760 mmHgFlash Point: 110.9 °CSolubility: water: 300 g/L (25 °C)
Disodium succinate(Exposure controls/personal protection)
Control parameters
Occupational Exposure limit values
no data available
Biological limit values
no data available
Appropriate engineering controls
Handle in accordance with good industrial hygiene and safety practice. Wash hands before breaks and at the end of workday.
Individual protection measures, such as personal protective equipment (PPE)
Eye/face protection
Safety glasses with side-shields conforming to EN166. Use equipment for eye protection tested and approved under appropriate government standards such as NIOSH (US) or EN 166(EU).
Skin protection
Wear impervious clothing. The type of protective equipment must be selected according to the concentration and amount of the dangerous substance at the specific workplace. Handle with gloves. Gloves must be inspected prior to use. Use proper glove removal technique(without touching glove's outer surface) to avoid skin contact with this product. Dispose of contaminated gloves after use in accordance with applicable laws and good laboratory practices. Wash and dry hands. The selected protective gloves have to satisfy the specifications of EU Directive 89/686/EEC and the standard EN 374 derived from it.
Respiratory protection
Wear dust mask when handling large quantities.
Thermal hazards
no data available
Disodium succinate(First-aid measures)
General Advice:If symptoms persist, call a physician.
Eye Contact: Rinse immediately with plenty of water, also under the eyelids, for at least 15 minutes. Get medical attention.
Skin Contact: Wash off immediately with plenty of water for at least 15 minutes. Obtain medical attention.
Inhalation: Move to fresh air. If breathing is difficult, give oxygen. Obtain medical attention.
Ingestion :Clean mouth with water and drink afterwards plenty of water. Get medical attention if symptoms occur.
Most important symptoms/effects None reasonably foreseeable. Notes to Physician Treat symptomatically
Disodium succinate(First fighting measures)
General Information:
As in any fire, wear a self-contained breathing apparatus in pressure-demand, MSHA/NIOSH (approved or equivalent), and full protective gear.
Extinguishing Media:
Use water spray, dry chemical, carbon dioxide, or chemical foam.
Succinic acid (exposure controls,personal protection )
Engineering Controls:
Facilities storing or utilizing this material should be equipped with an eyewash facility and a safety shower. Use adequate ventilation to keep airborne concentrations low.
Exposure Limits CAS# 150-90-3: Personal Protective Equipment Eyes: Wear appropriate protective eyeglasses or chemical safety goggles as described by OSHA's eye and face protection regulations in 29 CFR 1910.133 or European Standard EN166.
Skin:
Wear appropriate protective gloves to prevent skin exposure.
Clothing:
Wear appropriate protective clothing to prevent skin exposure.
Respirators:
Follow the OSHA respirator regulations found in 29 CFR 1910.134 or European Standard EN 149. Use a NIOSH/MSHA or European Standard EN 149 approved respirator if exposure limits are exceeded or if irritation or other symptoms are experienced.
Disodium succinate(disodium salt, anhydrous)
Precautionary Statements
Prevention
Avoid breathing dust/fume/gas/mist/vapors/spray
Wash face, hands and any exposed skin thoroughly after handling
Use only outdoors or in a well-ventilated area Wear protective gloves/protective clothing/eye protection/face protection
Response
IF ON SKIN: Wash with plenty of soap and water
IF INHALED: Remove person to fresh air and keep comfortable for breathing
IF IN EYES: Rinse cautiously with water for several minutes. Remove contact lenses, if present and easy to do. Continue rinsing Call a POISON CENTER/ doctor if you feel unwell
Take off contaminated clothing
Storage
Store in a well-ventilated place. Keep container tightly closed
Store locked up
Disposal
Dispose of contents/container to an approved waste disposal plant
Disodium succinate(Physical State: Powder)
Color: white
Odor: odorless
pH: Not available.
Vapor Pressure: Not available.
Viscosity: Not available.
Boiling Point: Not available.
Freezing/Melting Point: Not available.
Autoignition Temperature: Not available.
Flash Point: Not available.
Explosion Limits, lower: N/A
Explosion Limits, upper: N/A
Decomposition Temperature:
Solubility in water: 300 G/L (25C)
Specific Gravity/Density:
Molecular Formula: C4H4O4Na2
Molecular Weight: 162.05
Disodium succinate(Toxicity)
Investigations of the acute toxicity of disodium sebacate after oral, i.p. and i.v. administration were carried out on 220 Wistar rats (110 males and 110 females) and 204 New Zealand rabbits (102 males and 102 females). No oral acute toxicity was found. On the contrary LD50 +/- s.e. of 5500 +/- 830 mg/kg b.w. and 6000 +/- 850 mg/kg b.w. were found respectively for rats and rabbits after i.p. sebacate administration. When sebacate was given i.v., the median lethal dose +/- s.e. was 560 +/- 86.5 mg/kg b.w. for rats and 1400 +/- 267.2 mg/kg b.w. for rabbits. Similar results were obtained in corresponding groups of animals (in total 220 rats and 204 rabbits) given oral, i.p. and i.v. saline solutions with added glucose in order to obtain the same value of osmolarity and sodium ion concentration. The above results appear indicative of low toxicity of disodium sebacate, and suggest that the toxic effects found could be due to the sodium content of the compound administered. Similarly, subacute and chronic toxicity was investigated in forty rats and forty rabbits (twenty males and twenty females) fed disodium sebacate incorporated into pellets. When compared to the control animals, no significant differences in biological parameters (clinical, chemical and haematological values, growth curves and histological findings for the different organs) were observed in the test groups during the treatment period. In addition, fetal toxicity, teratogenicity and neonatal toxicity were investigated in twenty female rats and twenty female rabbits. Sebacic acid did not show any teratogenic effect and the development of the fetuses was regular.
Acute toxicity
Oral: no data available
Inhalation: no data available
Dermal: no data available
Skin corrosion/irritation
no data available
Serious eye damage/irritation
no data available
Respiratory or skin sensitization
no data available
Germ cell mutagenicity
no data available
Carcinogenicity
no data available
Reproductive toxicity
no data available
STOT-single exposure
no data available
STOT-repeated exposure
no data available
Aspiration hazard
no data available
Disodium succinate(about us)
Anhui Sunsing Chemicals Co.,Ltd.,transformed from former Chizhou Sanyuan Chemical Co.,Ltd., It is one of the High-technical enterprises in Anhui, also one of the important manufacturers of Organic Pigment and the largest manufacturer of Succinic Acid in China.
Our company lies in Chizhou city, Anhui province, It's to the east of Anqing, West of Tonglin, north of the "318" National Highway, south of the Changjiang River. It's near to Jiuhua Mountain-- one of the four famous buddhism Sanctuaries in China, Land and water traffic are very Convenient.
The general assets is USD3622943. The whole factory covers an area of 88,000m2 and the building area is 22,794m2, There are over 180 staff members and workers , including over 50 all levels of specialized technical and administrant personnel, 5 senior engineers, 26 intermediate technicians. Our company acquired ISO9001:2000 Quality authentication system and STAR-K authentication .Our main products are Pigments Series, Succinic Acid and Succinic Acid series,(Disodium Succinate,Dikalium succinate,Calcium Succinate, Diethyl Succinate ,Diemethyl Succinate),Fine Anhydrous Calcium Chloride etc.
The products of our company are widely used in many ways. 90% of them are exported to U.S.A., Britain, Japan, France, Germany, Australia, Middle East, Hong Kong, Taiwan, Macao ,etc. More than twenty countries and regions in the world.
They are sold to the cities all over the country. Our company have established good business relations with many large enterprises. We have advanced technology and production facilities.The main products--organic dyestuff of phthalocyanine series and Succinic Acid. We were awarded Anhui science and technology result in 1996.And the product of Succinic Acid was cognized as provincial high-tech products in 1997.
The enterprise makes friends from all over the world in the spirit of "sincere and faithful,guaranteed quality,top-ranking service,consumer paramountcy".
Wang Yusheng,chairman of the board and general manager,zealously welcomes all the clients within the country or overseas.